Straker's car
From UFOpedia
Straker's car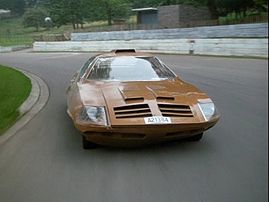 Purpose
Location
Design Aspects
This car, as the lilac one also seen in UFO, was originally made for the film Doppelganger. Derek Meddings did the original sketches and his ideas were completed with Ford designer Len Bailey.
Alan Mann (Alan Mann Racing) was asked to build the vehicles. The vehicles were modelled in clay and then the bodies hand beaten in aluminium.
The chassis was reported to be a Ford Zephyr MkIV (possibly a Zodiac) and the engine either a Ford Cortina 1600GT or Escort.
Ed Straker's car was re-sprayed bronze when filming on UFO commenced. The other vehicle was sprayed lilac.
Myths and fanon
Trivia
the car's licence number: A 21384
Quote from Gerry Anderson:[1]
(The cars)... were custom built and the bodies were made from beaten aluminium - they were quite dangerous to drive! The gull-wing doors didn't operate - what would happen is that when Strakers car stopped, the camera would zoom in past the door, and the prop-man would then run in and raise it before the shot returned to Straker getting out of the car. They were originally built for a feature film that I did called Doppleganger, but ended up being used in UFO.
Model Designer
Derek Meddings with Len Bailey
Episodes
E.S.P., Court Martial, Confetti Check A-O.K., The Psychobombs, Timelash, Survival, Flight Path, The Long Sleep
References